DO YOU WANT TO MAKE MONEY?
My name is Dianne and I am the website developer / philanthropic entrepreneur and proud owner of this website.

After doing more than my fair share of searching for a way to make money online, I have FINALLY found the answer.
BE A PHILANTHROPIC ENTREPRENEUR!
Have YOU ever wanted to be a philanthropic entrepreneur - in other words someone that does good AND makes money at the same time??? It certainly appeals to my benevolent side - I'm very generous when I have the money! It just seemed like I never had the spare money!
I make money every month! :)

I have now joined an organization where at last, I MAKE MONEY EVERY MONTH!
I now get two paydays every month. The one from my dayjob which pays on the last day of the month and the one from this business which pays me on the 20th of every month. It really helps!
THIS IS SIMPLE
It is a really simple concept.....
This is not an organization where you end up as a milkshake, cleaning products or insurance SALESPERSON (and don't get me started on how much expired milkshake I had left in the garage which I finally threw away!!!). Our concept is SIMPLE and IT WORKS!



YOU ARE A NATURAL NETWORKER
Believe it or not, we are all natural networkers. Think about it. If you go to a good movie, you tell your friends "you've got to go and see it". Likewise if you enjoy a meal at a restaurant, you say "come and eat at my new favourite place".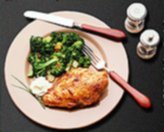 Neither the moviehouse nor the restaurant pay you a "finders fee" or a "commission" on all the movies your friends see or the meals that they eat. You did that for free!
So how about joining a business that is really worthwhile, and then telling a few of your friends? And make some money!
It is what I did in the beginning - told my family and my friends. Then my dayjob got really busy so now I just market on the internet.
And my business grows every month :)
You only need to introduce three people to become an earner. Most people can do that.
I'm sure you've got more than three friends!
There is even more!!! If you were to introduce 5 friends to this business and they introduce 5 friends down to your fourth level, you will be earning an additional R16,419.00 per month and that excludes all the bonuses the company will give you!
Would an extra R16,419.00 per month help???
SOUND OK SO FAR?
So by now you are probably wondering how much all this costs... What is the figure you have in mind?
Nope - who has R1500 lying around spare?????
Still nope - not too many people have R800 doing nothing in their purse or wallet!
Well this is certainly more affordable than the above two but it's still not the cost.
This business is for EVERYONE so it is VERY AFFORDABLE.
This business is a mere contribution of R190 per month.
That is not even a decent dinner for two!

So for less than a cost of dinner for you and your partner, you can build a business that can lead to a SUBSTANTIAL RESIDUAL INCOME!
RESIDUAL INCOME???
What do we mean by residual income?

A residual income is money that comes into your bank account REGARDLESS of whether you sold something and worked that month.
I know I have taken off whole months (Decembers especially!).
I promise you, you don't feel bad when money comes into your bank account! I know I worked really hard initially at this business and my monthly income is simply my initial hard work paying off now.
Of course you don't HAVE to introduce anyone. However introducing people to the business is how you will build a strong monthly income.
I'll help you market on the internet.

The best thing is - when you join, and if you want to do this business to earn an income, I can give you a full "online business package" which includes:
How to Start - Step by Step ;
Various Marketing Methods; and

A full Guide to Marketing your business on the Internet which includes over 200 website addresses where you can place free online adverts PLUS a whole lot of ready made adverts PLUS a bunch of headlines PLUS a really easy-to-use monitor for placing your adverts (it is so simple that even someone who is NOT internet / computer literate can do it).



If you want more information now, simply mail me at dianne at icon.co.za for more information and I'll send you the particulars. I PROMISE I won't sell your email address and I honour all unsubscribe requests.
I'm just an email or a phone call or an sms away and ............ I WILL HELP YOU!
ROBERT KIYOSAKI'S CASH FLOW QUADRANT
I'm sure you are familiar with Robert Kiyosaki's books "Rich Dad, Poor Dad" and his sequel, "Cash Flow Quadrant".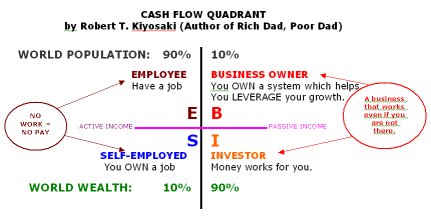 After reading them, I realised I either wanted to be a "B" (Business Owner) or an "I" (Investor).
However, it takes money to be an Investor so it left me with the goal of being a Business Owner. Don't fall into the trap of thinking that you are a business owner if you are actually only self-employed.
The defining criteria is: If you don't go to work for a month, will your business continue to give you a substantial income. If so, you are a business owner. If your income decreases if you are not at work then you are simply self-employed and actually your business owns you!!!
BECOME A MILLIONAIRE?
MLM (multi-level marketing), also known as Network Marketing has turned ordinary people into millionaires .

MLM creates a passive income (one of the goals of the Cash Flow Quadrant).

With MLM, you own a system which helps you leverage your growth (another goal of the Cash Flow Quadrant).
Be extremely selective - make sure the company SUITS YOU!
I analysed a LOT of MLM companies and then wrote down my list of WHAT I REQUIRED FROM A COMPANY. I was absolutely certain of the following:
I did NOT want:
I didn't want a company that had a large range of products as I didn't want to have to keep going back to customers and selling them something EVERY MONTH.

I therefore didn't want a company that did cleaning chemicals, beauty products or health items like vitamins or milkshakes or nutritional supplements.

I did NOT want to "give away" my first couple of recruits in a "forced matrix".

I did not want to be forced to fill up one level before moving down to the next level. I hate being told what to do. I want to do exactly as I please and if I choose to concentrate on one downline that should be my choice (although I wouldn't do that as it would be stupid - you want to go as wide as possible in your business).

I didn't want a start-up cost of around R20,000.00!
What I wanted from a Network Marketing company:
I wanted a company that you signed up someone once and then moved on to the next person.

I wanted to earn on every single person I signed.

I wanted a decent compensation plan including rewards and bonuses.

I wanted a reasonable expected monthly expenditure.

I wanted realistic bonus targets.
I FOUND THE COMPANY THAT IS PERFECT FOR ME! :)
Want to know more??? Just send an email to dianne at icon.co.za for more information. I haven't put my phone number as it is impossible to explain this business over the phone.
I'll send you no-obligation information which will explain everything.
My personal promise is that I won't hound you! I certainly hate spam as much as the next person so your email address is safe with me and I also honour all unsubscribe requests.
I look forward to hearing from you soon.
Best regards
Dianne